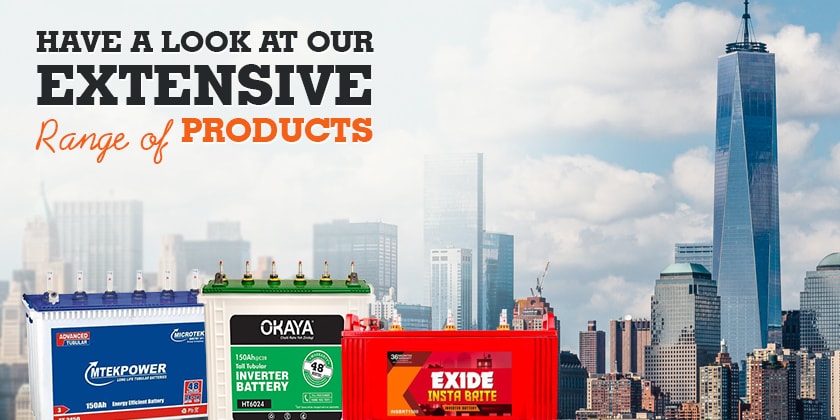 Car Batteries in Hyderabad

Battery Boss has its presence in Hyderabad, the City of Pearls for car batteries of various brands like Amaron, Exide, PowerZone etc. with free delivery and installation at the customer's door step. We do immediate car break down service (break down due to battery) also in Hyderabad and secunderabad. We offer on road car battery service also. Battery Boss offers the best price to its customers and we operate in a very transparent manner. Customer can get genuine products from Battery Boss at reasonable prices. Just feel free and click on the below icon to raise your query through whatsapp.

We deliver 100 % authentic batteries with correct fitment. Customers can avail hassle free service from Battery Boss by booking an appointment of their convenient time* without disturbing the daily busy schedule (*extra charges will be applicable for odd hours and long-distance delivery)

BatteryBoss is a very good option in Hyderabad and Secunderabad with the best Car Batteries Price where you will get the correct fitment battery for your car. We will provide you a valid warranty card and GST invoice along with the battery.

You can buy Car Batteries Online in Hyderabad and Secunderabad in a hassle-free way from BatteryBoss.in at the best market price available instead of searching for a Car battery near by. Battery Boss will give you genuine car batteries of latest manufacturing through authorized battery distributors.

Customer benefits from Battery Boss by booking Exide and Amaron batteries at competitive prices from Exide battery dealers and Amaron battery dealers. We cover the entire Hyderabad and Secunderabad which includes areas like Gachibowli, Shamshabad, Kukatpally, Mallapur, Hi Tech City, Habsiguda, Jubilee Hills, Secunderabad, Banjara Hills, Manikonda, Uppal Kalan, Ameerpet, Shamirpet, Sainikpuri, Srinagar Colony, Abids Road, Adarsh Nagar, Adikmet, Afzalgunj, Agapura, Ahmed Nagar, Akbar Road, Alexander Road, Aliabad, Alwal, Amberpet, Ameerpet X Road, Anand Bagh, Anand Nagar Colony, Ashok Nagar, Asif Nagar, Attapur, Attapur Ring Road, Auto Nagar, zamabad, Azampura Masjid, Baber Bagh, Bachpally, Badichowdi, Bagh Amberpet, Bagh Lingampally, Bahadurpura, Bahadurpurpally, Bairamalguda, Bakaram, Bala Nagar, Balapur, Balkampet, Bandimet, Bandlaguda, Bank Street, Bansilal Pet, Bansilalpet, Bapuji Nagar, Barkas, Barkatpura, Basheerbagh, Bazarghat, Begum Bazar, Bhagya Nagar Colony, Bharat Nagar, Bhel, Bholakpur, Bk Guda, Bod Uppal, Boggulakunta, Bolaram, Borabanda, Boudha Nagar, Bowenpally, Boyiguda, Chaderghat, Chaitanyapuri, Champapet, Champapet X Road, Chanchalguda, Chanda Nagar, Chandrayanagutta, Chandrayangutta, Chappel Bazar, Chappel Road, Char Kaman, Charkaman, Charlapally, Charminar, Chatta Bazar, Cherlapally, Chikkadpally, Chilkalguda, Chintal, Chintal Basti, Chintalkunta, Chirag Ali Lane, Chudi Bazar, Gulzar House, Gun Foundry, Gun Rock, Gunfoundry, Hafiz Pet, Hakimpet, Hanuman Tekdi, Haribowli, Hasmatpet, Hastinapuram, Hayat Nagar, Hill Fort, Hill Fort Road, Hill Street, Himayat Nagar, Himayat Nagar X Roads, Himayat Sagar, Hmt Nagar, Hmt Road, Humayun Nagar, Hussaini Alam, Hyder Basti, Hyder Nagar, Hyderabad Central, Hyderguda, Ibrahim Bagh, Ibrahimpatnam, Inderbagh, Indira Park, Jagadgirigutta, Jagdish Market, Jahanuma, Jambagh, Jamia Osmania, Jawahar Nagar, Jawaharlal Nehru Road, Jeedimetla, Jaggamguda, Jama I Osmania, Jillellaguda, Karwan Sahu, Kachivani Singaram, Kattedan Ie So, Keesara, Keesaragutta, Keshogiri SO, Khairatabad HO, Kingsway, Kismatpur, Kolthur, Korremal, Kulsumpura, Kyasaram, Lalgadi Malakpet, Mehdipatnam, Old City, Pratap Singaram, Qazipura, RC Imarat So, Rahmath Nagar, Rail Nilayam, Raj Bhavan, Rajbolaram, Ag College, AG Office, A.Gs Staff Quarters, Amber Nagar, Kachi, Kachiguda, Kachiguda X Road, Kakaguda, Kakatiya Nagar, Kalasiguda, Kali Kabar, Kali Kaman, Kalyan Nagar, Kamala Nagar, Kamala Puri Colony, Kamla Nagar, Kanchanbagh, Kandoji Bazar, Kapra, Karimnagar, Karkhana, Sai Nagar, Karman Ghat, Karmanghat, Karmanghat X Roads, Karvan, Karwan, Kavadiguda, Keshavagiri, Khairatabad, Kharkhana Main Road, King Koti, King Koti X Road, Kishan Bagh, Kishangunj, Kompally, Kondapur, Kothaguda, Kothapet, Kphb, Kphb Colony, Krishna Nagar, Kukatpally Colony, Kummarguda, Kundan Bagh, Kushaiguda, Kattedan, Kavadi Guda, L B Nagar, L B Stadium, Lad Bazar, Lakdi Ka Pul, Lal Bazar, Lal Darwaza, Anand Nagar, Ananthagiri, Andhra Mahila Sabha, Aperl, APHB Colony Moulali, Atvelli, Badangpet, Begumpet, Begumpet Police Lines, Bharath Nagar Colony, Boduppal, Bogaram, Central Police Lines, Chanchalguda Colony, Chandulal Baradari, CRP Camp, Cyberabad, Dargah Hussain Shah Wali, Darushifa, Dattatreya Colony, Dhoolpet, Fathenagar Colony, Gajularamaram, Gandhi Bhavan, Girmapur, Golconda Chowrastha, Saidabad, Saifabad, Saleem Nagar, Sanath Nagar, Santosh Nagar, Saroor Nagar, Sebastian Road, Secretariat, Seetharambagh, Serilingampally, Shah Ali Banda, Shahpur Nagar, Shaikpet, Shahpur Nagar, Shamshergunj, Shanker Bagh, Shanker Mutt, Shanti Nagar, Shivam Road, Shivarampally, Siddarth Nagar, Siddiamber Bazar, Sikh Road, Sikh Village, Sikh Village Road, Sindhi Colony, Sitaphal Mandi, Somajiguda, Somajiguda Circle, Sri Krishna Nagar, Sri Srinivas Colony, Srinagar, Srinagar Colony Main Road, Srinivasa Colony, Srinivasa Nagar, Srinivasa Nagar Colony, St. Johns Road, St. Marys Road, Subash Road, Sultan Bazar, Surya Nagar Colony, Shapur Nagar, Shivaji Nagar, Tad Bund, Tad Bund X Road, Talab Katta, Talabkatta, Tank Bund, Tank Bund Road, Tar Bund, Tar Bund X Road, Taranagar, Tarnaka, Tilak Nagar, Tilak Road, Tobacco Bazar, Toli Chowki, Topkhana, Trimulgherry, Trimulgherry X Road, Troop Bazar, Uppal, Uppuguda, Vanasthalipuram, Vasavi Nagar, Vengal Rao Nagar, Venkatapuram, Vidyanagar, Vijay Nagar Colony, Vikas Nagar, Vikrampuri, Vikrampuri Colony, Vinayak Rao Nagar, Vithalwadi, Warasiguda, West Marredpally, Yakutpura, Yapral, Yellareddy Guda, Yellareddyguda, Yousuf Bazar, Yousufguda, Zamistanpur, Tirumalgherry, Hyderabad Airport 1, Hyder Shah Kote, Hyderabad GPO, Hyderabad Jubilee HO, Hyderabad Public School, I.E.Nacharam, I.M.Colony, Ibrahim Bagh Lines, Ie Moulali, IICT, D D Colony, Dabeerpura, Dabeerpura North, Dar Ul Salam, Darul Shifa, Defence Colony, Devan Devdi, Dhan Bazar, Dharam Karan Road, Diamond Point, Dilshad Nagar, Dilsukhnagar Main Road, Distillery Road, Domalguda, Doodh Bowli, Dr. A.S Rao Nagar, Dwarkapuri Colony, East Anand Bagh, East Marredpally, ECIL, Ecil Post, Ecil X Roads, Edi Bazar North, Erragadda, Erramanzil, Lalapet, Erramanzil Colony, Esamia Bazar, Falaknuma, Fateh Darwaza, Fateh Maidan, Fateh Nagar, Feel Khana, Feroz Guda, Film Nagar, Gaddi Annaram, Gaddi Annaram X Roads, Gagan Mahal, Gagan Pahad, Gandhi Nagar, Gandhipet, Gandhipet Road, General Bazar, Ghansi Bazar, Ghasmandi, Ghatkesar, Golconda, Golconda X Roads, Gosha Mahal, Gowliguda, Gowliguda Chaman, Green Lands, Green Park Extension, Gudimalkapur, Gudimalkapur New Po, Lallaguda, Langer House, Liberty, Lingampalli, Lingampally, Lothukunta, Lower Tank Bund Road, M G Road, Machili Kaman, Madannapet, Madhapur, Madhura Nagar, Madina, Madina Guda, Mahankali Street, Maharaj Gunj, Mahatma Gandhi Road, Mahendra Hills, Malakpet, Malakpet Extension, Malkajgiri, Mallapur, Mallapuram, Mallepally, Mallepally North, Mangal Hat, Mansurabad X Road, Market Street, Marredpally, Maruthi Colony, Maruthi Nagar, Masab Tank, Medchal, Meerpet, Mehboob Gunj, Mehboob Nagar, Mehdipatnam X Road, Mettu Guda, Minister Road, Miralam Mandi, Miyapur, Mogulpura, Moinabad, Monda Market, Moosabowli, Moosapet, Moosaram Bagh, Moosaram Bagh X Road, Moti Nagar, Moula Ali, Mozamjahi Market, Mughalpura, Muktargunj, Murad Nagar, Musheerabad, Mylargadda, Nacharam, Nagarjuna Hills, Nagarjuna Nagar, Nagarjuna Sagar Road, Nagole, Nagole X Road, Nallagutta, Nallakunta, Namala Gundu, Nampally, Nampally Station Road, Narayanaguda, Narayanguda, Nayapul, Necklace Road, Nehru Nagar, Neredmet, Neredmet Cross Road, New Bowenpally, New Boyiguda, New Malakpet, New Nagole, New Nallakunta, New Nallakunta X Road, New Osmangunj, Nimboliadda, Nizam Shahi Road, Nizamabad, Nizampet, Nizampet Road, Noor Khan Bazar, Old Alwal, Old Bowenpally, Old Boyiguda, Old Ghasmandi, Old Jail Street, Old Malakpet, Old Topkhana, Osman Shahi, Osmangunj, Osmania University, Padma Rao Nagar, Palika Bazar, Pan Bazar, Panjagutta, P And T Colony, Paradise, Paradise Circle, Parklane, Parsigutta, Patancheru, Patel Market, Pathargatti, Patny, Penderghast Road, Picket, Pot Market, Pragathi Nagar, Prakash Nagar, Prasanth Nagar, Purana Pul, Purani Haveli, Putli Bowli, R R District, Raj Bhavan Road, Rajendra Nagar, Ram Nagar, Ram Nagar X Road, Ramachandra Puram, Ramakrishna Puram, Ramakrishna Puram Road, Ramanthapur, Ramgopalpet, Ramkote, Ramnagar Gundu, Ranga Reddy Nagar, Ranigunj, Rashtrapathi Road, Rasoolpura, Red Hills, Regimental Bazar, Rethi Bowli, Rikabgunj, Risala Bazar, Rtc Colony, RTC X Road, S D Road, S P Road, S R Colony, S R Nagar, Safilguda, Sagar Road.